Right to political participation
//Involve
//Mobilize
//Advocate
//Influence local politics
//Influence public policies
"Political innovation is way forward and the periphery is the key."
Rayanne, Brasília
The previously presented rights labs addressing the right to existence, to education, culture and memory, and to economy and living well prototype public policies that prioritize managing urgencies.

These prototypes, actions and initiatives reveal two sides of of democracy. On one side there is a delay, where the democratic process guarantees constitutional rights on paper but not in practice. On the other, there is an opportunity for acceleration as actions are created that have direct impacts on reducing inequalities.  The question is how to influence programs and public policies through actions that guarantee rights in practice.
"The periphery is the locus for the construction of alternatives.
Thaísa, Recife
In the initiatives that we call labs of political participation, civil society advocacy and public policies based on experimentations and actions meet. They are the construction of laws and programs based on experiences in participatory councils, articulations, advocacy and influence on executive, legislative and judicial powers.


"The politics that they look at is the politics of always wanting more. I am going to speak with this congressman who is my friend, I give him something because I want that contract.  For me this isn't politics, this is corruption. The periphery is politics, the periphery is struggle, it is resistance. The important debates are coming out of the periphery. It is the people from the periphery, women, black people. They are the minority in rights and the majority in population numbers. I believe that the politics of the future is in the periphery."
Luiza, Recife
"The strongest example that I have seen was my opportunity to meet with a secretary from São Paulo city government to discuss how a public policy is going.  And it was important not just because he was listening to me, but because he demonstrated an understanding that that public policy would not be of value if it did not have my participation and the participation of other people.  This eye towards the collective is what can transform the state, the transformation is not going to come from within the state, it is going to come from outside."
Ronaldo, São Paulo
Black Initiative for New Drug Policies (INNPD)
INNDP discusses alternatives for drug policy, taking into consideration the fact that the "war on drugs" promotes genocide and mass incarceration of the black population. They work mainly in the peripheries of São Paulo city.
One of the main examples a the path towards the shared management of public funds can be found in the public calls for projects and laws granting financial resources to cultural initiatives. They are the result of articulations within the culture sector and of victories over the years. The laws promoting theater and dance in São Paulo are examples of these processes. Many of the people we interviewed from São Paulo bring up the VAI (VAI Law for the Valorization of Cultural Initiatives, in effect since 2004) as a key mechanism for access to public resources and support for initiatives.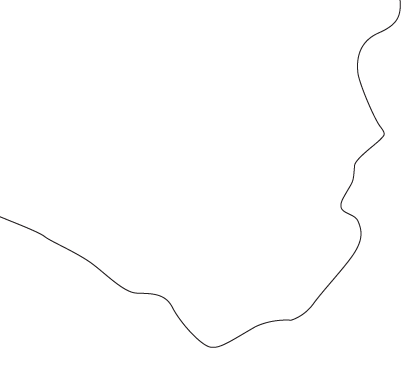 "The idea of a vocational theater at that time, which happened in the CEUs, was to tell the story of the neighborhood, to involve the children and adolescents from the neighborhood.  Theater projects started around that time, in the beginning of the 200s, from 2000 to 2010, and many cultural groups started to pop up in the neighborhood, many groups for theater, dance, music and also through the VAI policy.  People in the periphery got a lot of important things at that moment, and I think it influenced everyone who is in the periphery a little bit."
Jéssica, São Paulo
"The idea came from the VAI program, our project was approved after many attempts. We were able to improve the equipment, everything in the garage. They called us in to have a conversation, not just to play, but we took Dexter with us, we got the guys together to converse, took Gaspar, took GOG, all of this in the garage."
Márcio, São Paulo
This exercise of cultural movements articulating and managing public resources led to the experiment of formulating Law Supporting Culture in the Periphery (Law #16.496/2016, in place since 2016). Civil society organized into a group called "Cultural Movement of the Peripheries" to make this happen.
"The Cultural Movement of the Peripheries) had written it, they conducted a process and went to the ghettos to present the law and ask the people, do you think it is cool? It was sort of like a listening exercise that they did, you know? And it was really cool, really awesome, it strengthened the project. The Cultural Movement was like a public policy university because it gave a lot of grounding for us to think about many of the things that we do today."
Jesus, São Paulo
Other laws also exist, for example the Rouanet Law that gives tax exemptions to corporations that incentivize culture. However, this does not play a role in the reduction of inequalities because it does not value cultural production in the peripheries.

"So you go to the sponsor, the guy looks and says 'man, if you did that it in the center it would actually be better for us, because then we have more media coverage.' Do you understand how it works? They are looking at you as a way to get media coverage. And then you will have to find a businessperson with some vision of the market who will say 'no, it is important to be there, because the product also has to be there."
Antônio, Brasília
Other laws, not only those related to culture, also reveal the challenges in reducing inequalities.
"Unfortunately, Complimentary Law 150 has discrimination written into it. The other workers have a right to 5 installments of unemployment insurance of the value of the salary that they received, but we domestic workers only have the right to 3 installments equivalent to a minimum salary. This is discrimination."
Luiza, Recife
It becomes clear that the participation of the people who articulate and promote actions in the territory, from within the territories and for the people in the territories or aimed outward, is key for the creation of alternatives, programs, incentives, laws and government actions. In other words, they must be formulated and agreed upon with the peripheries, their needs, challenges and opportunities.
Jardim Brazil, in the Extreme North of São Paulo, next to Serra da Cantareira. The middle of the world is here. Better yet, the House in the Middle of the World, a collective space for cultural agents, communications professionals and researchers from the peripheries interested in social transformation with a hyperlocal perspective.
Ingrid Felix and Jesus dos Santos, members of the collective, understand what they want.  Activists with the Peripheries Cultural Movement, they helped to write a law for cultural support in the peripheries, based on the human development index in São Paulo ghettos. The law, passed in 2016, directs resources for cultural organizations in the regions that tend to receive less from the government.
This experience in the streets, in the struggle, feeds the House in the Middle of the World. There, political subjects receive training to continue on the front lines, disputing resources from the municipal budget. They work to strengthen local development with an emphasis on care and horizontality. "Beforehand, representatives far away from us spoke for us. Now, we are speaking for ourselves," Jesus notes.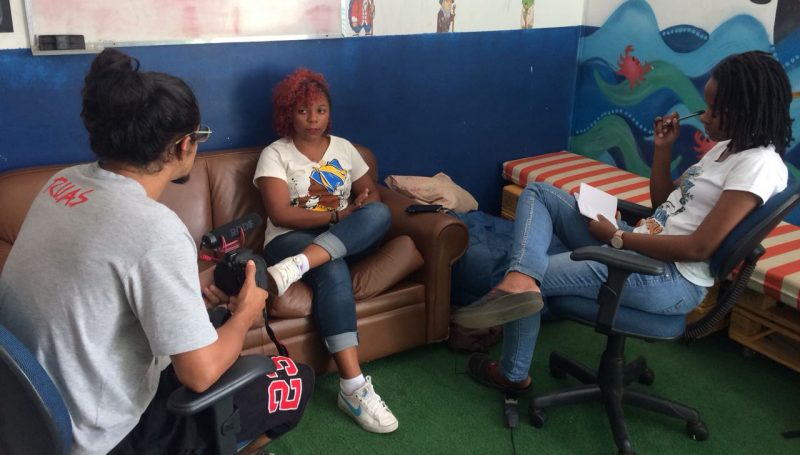 Rayne da Silva Soares has been in Expressive Youth for five years. She entered as a student in the audio-visual workshop at the recommendation of a friend. She became an employee and is now on the management team.
The program was created in 2007, based on research that showed how violence impacts youth. Its social technology joined health promotion and the creative potential of people aged 18 to 29, who have a unique capacity to generate responses. The organization promotes the collaboration and autonomy of youth through workshops and cultural actions.
For Rayane, who is trained in pedagogy and whose first contact with politics happened through the student movement at her school, the political leaders of the future will come out of spaces like this one.
"Change is going to come from the state government, but not from the people who are there now. Change will come from the people who are entering the universities, the youth who are doing grassroots work in the communities and occupying those spaces. The people in there now don't want to change, no they don't," she said.
Spaces dedicated to cultural and political training and where people can gather, like the CEUs in São Paulo, CCJ in Recife, and Expressive Youth space in Brasilia, are important for increasing political participation.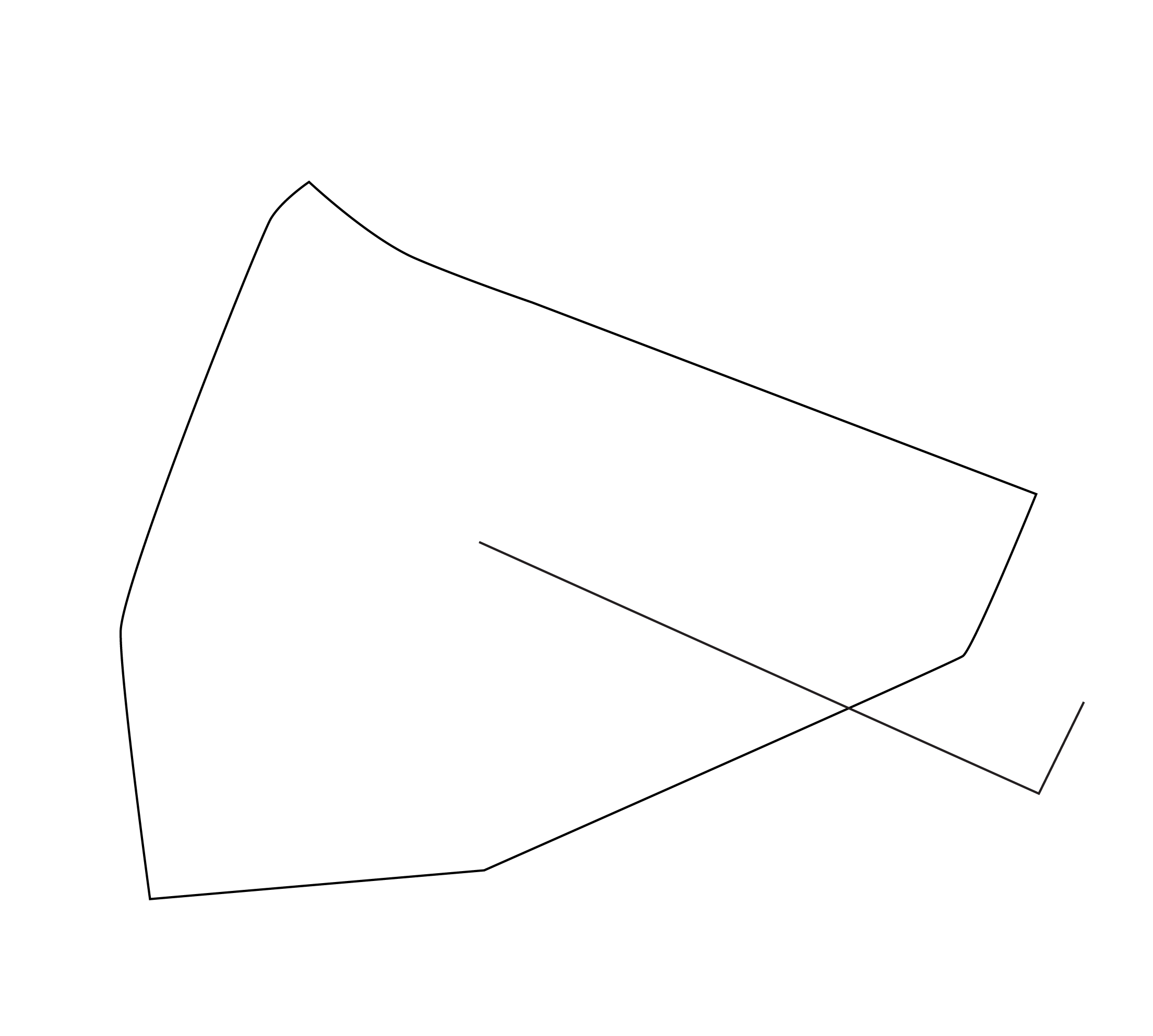 "It was important for me to enter the CCJ and see myself there, find myself there in that reality.  And I am there still, I won't leave. And the people won't let me leave either. So the CCJ was the doorway to everything, the entryway for many spaces where I participate, for my social life and political life, too.  And it is important to make clear that collectives and organizations that work with youth save lives. Because I don't know, if I hadn't found that door, I don't know what I would be today, if I would have become another statistic."
Jéssica, Recife
"The people we support are included in our political discussions, participating in our actions. Sometimes someone who was a bit quiet when she arrived here is now is able to demand her rights, kicking down the door and not accepting anything less than what she wants."
Clarice, Belo Horizonte
Participation methodologies
// political pedagogy 
// mobilization
"If it it was up to us, to the poor, black, indigenous and poor white population, who are aligned and that are thinking about a national project that is more inclusive, more participatory, obviously the country would be in a very different situation than it is in today. So you have a process that is really tense, people are more interested in this population now than when the new Constitution was established in 1988. Because then it becomes a democracy, and you can't imagine a democracy without full participation of the people."
Tadeu, São Paulo
Social participation methodologies guarantee inclusion and debate around the issues important to and perspectives from the peripheries. Today, only small number of doers from the peripheries opportunities discuss and influence political decision making. The social participation labs are organized to influence public policies with the point of view of the people who are directly impacted by the issues at hand.


"In this universe of the politics of managing civic resources, water, the control and management of water in the state and everything else…there was already an issue of not seeing the groups that actually lack access to basic sanitation, they are not even participating in this decision making process. So if you go to a meeting about hydraulic resources, you find a group of elite white men, civil engineers that discuss policies for water and sanitation. And you see them in the councils, in the offices and everything else and we say: 'look, there is no running water in the periphery or in the quilombola and indigenous communities!"
Tatiana, Belo Horizonte
In all the cities, the councils are cited as spaces for training and advocacy. It is important to note that the youth councils have a special characteristic of working transversally throughout other secretaries. They play the role of interlocutor around diverse issues like education, culture, work, transport and mobility, among many others.
Developing an inviting space also depends on political will. A youth council cannot make its methodology so bureaucratic that it distances youth.
A fear? Make no difference at all.
A dream? Make all the difference.
The political is? Of the people.
The political innovation is? Of the young.

"I started to study more youth policies. To learn that youth have rights, that there is a youth statue and that we have the right to a municipal and state youth council, to a conference, and that our rights are guaranteed. From there, we started to bring our issues to and vote on the youth council. Today, I occupy our seat on the youth public policy council, and also on the state council. We have a seat on the Human Rights [council], too. We don't have a seat on racial equality or drug policy councils, but I participate in the meetings."
Jéssica, Recife
"Because there are no policies for youth in this country, and there were even fewer 10 years ago. We save the young kids but we kill them when they become adolescents. Do you understand? This shows the lack of public policies. The homicide rate of Brazilian youth shows that there are no public policies for youth. The most important issues will always be the same: health, public security. We are stuck as long as we don't change this, because young people are in everything. Youth issues are public security issues, public health issues. Youth issues are directly connected to nation building. They are related to industry issues."
Antônio, Brasília
"Mobilizing youth is sometimes a challenge. And youth in the way we understand it is very dynamic. Sometimes we take a pause and think about that young person five years ago, how he is not the same anymore."
Warley, Belo Horizonte
Observatório da Juventude
(Youth Observatory)
The Youth Observatory of UFMG brings together students, professors and youth who are not involved in academic life to gather data, organize studies and influence public policies for youth in the Belo Horizonte metropolitan region.
On the ground mobilization
"The network is key, I think there is also the issue of the tools, the technologies that opened up this possibility for you to connect with people from other cities and around the world. But we think a lot, I believe being off and on all the time."
Thamyra, Rio de Janeiro
It is hard to measure the impact of the small mobilizations like conversation circles, pamphlets and school visits. Nevertheless, the doers identify these actions as very important for working in the territories and for addressing common issues. Media and online content production do not substitute these actions, they are complementary to one another.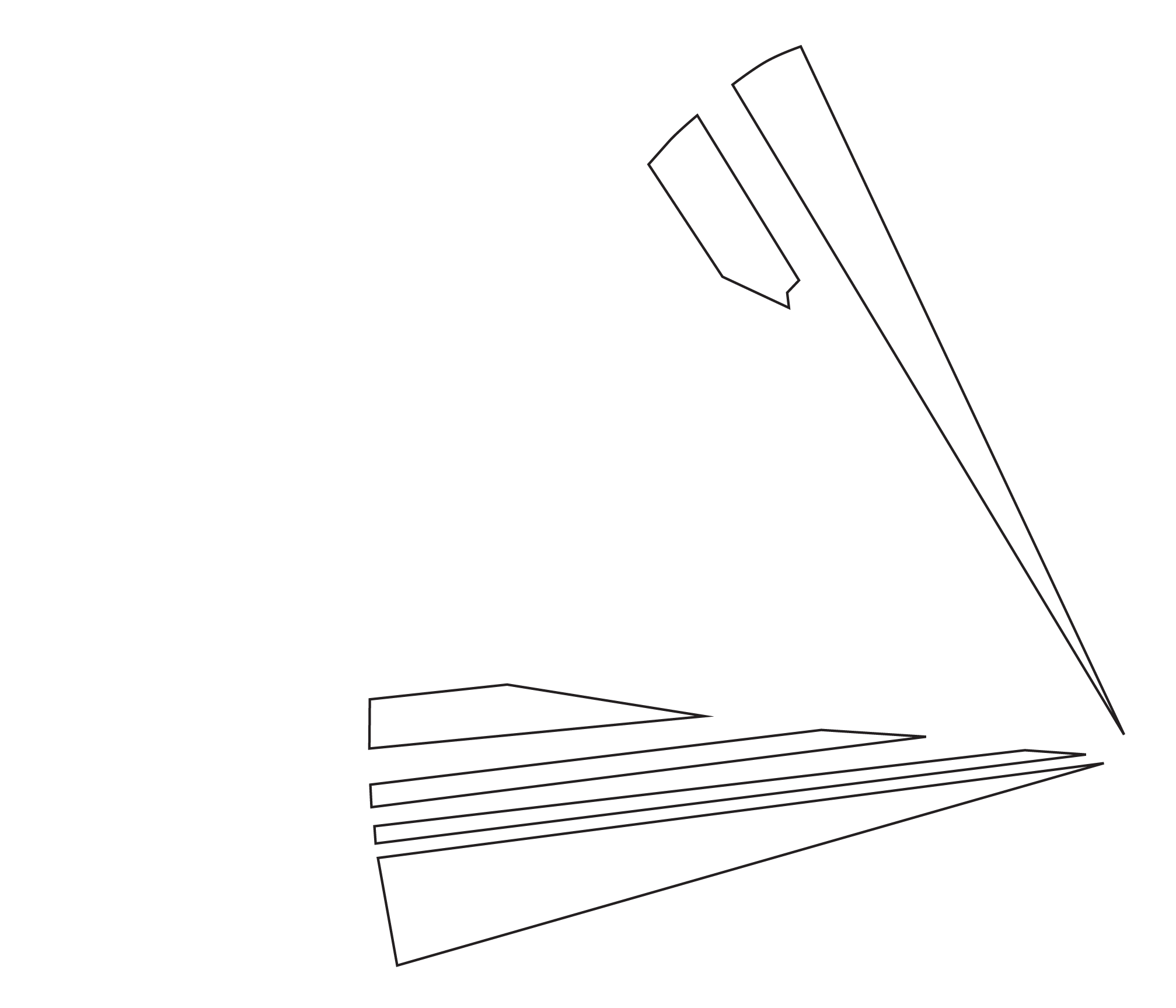 "Perus, for example, fought a lot against a garbage dump in 2001. At that time, people came to my school to distribute pamphlets. This inspired me as a kid. I mobilized people in my class to create an environmental action in our school. I connect this with the mobilization was happening in that neighbourhood."
Jéssica, São Paulo
"I think that the student movements are doing something really cool. Many young people start to have access to politics through the student movements that enter into the schools."
Rayane, Brasília
"Man, lets focus on our territory? Rather than wanting to expand, we need to not expand, we need to support. So let's support there. Let's open a call for proposals to support activities in the Praça do Cidadão. Let's open a call for proposals to support the collective activities that are already happening."
Antônio, Brasília
Família de Rua (Street Family) occupies the space under an overpass in the center of Belo Horizonte with aspects of Hip Hop culture, among them the famous battle between MCs, and fights for the right to the city.
"The process of rebuilding the social fabric starts with the understanding that no one savior is coming to free us from the condition of 'citizens waiting for a miracle.' Independent and autonomous citizens, who are free from patriarchal power and conscious of their responsibilities, create conditions for more people to emancipate themselves."
This section of the Emerging Politics in Latin America report explains the process of citizen emancipation. In the context of the peripheries, the management of urgencies provokes the emancipation of doers and pushes them to autonomous action constructing political processes.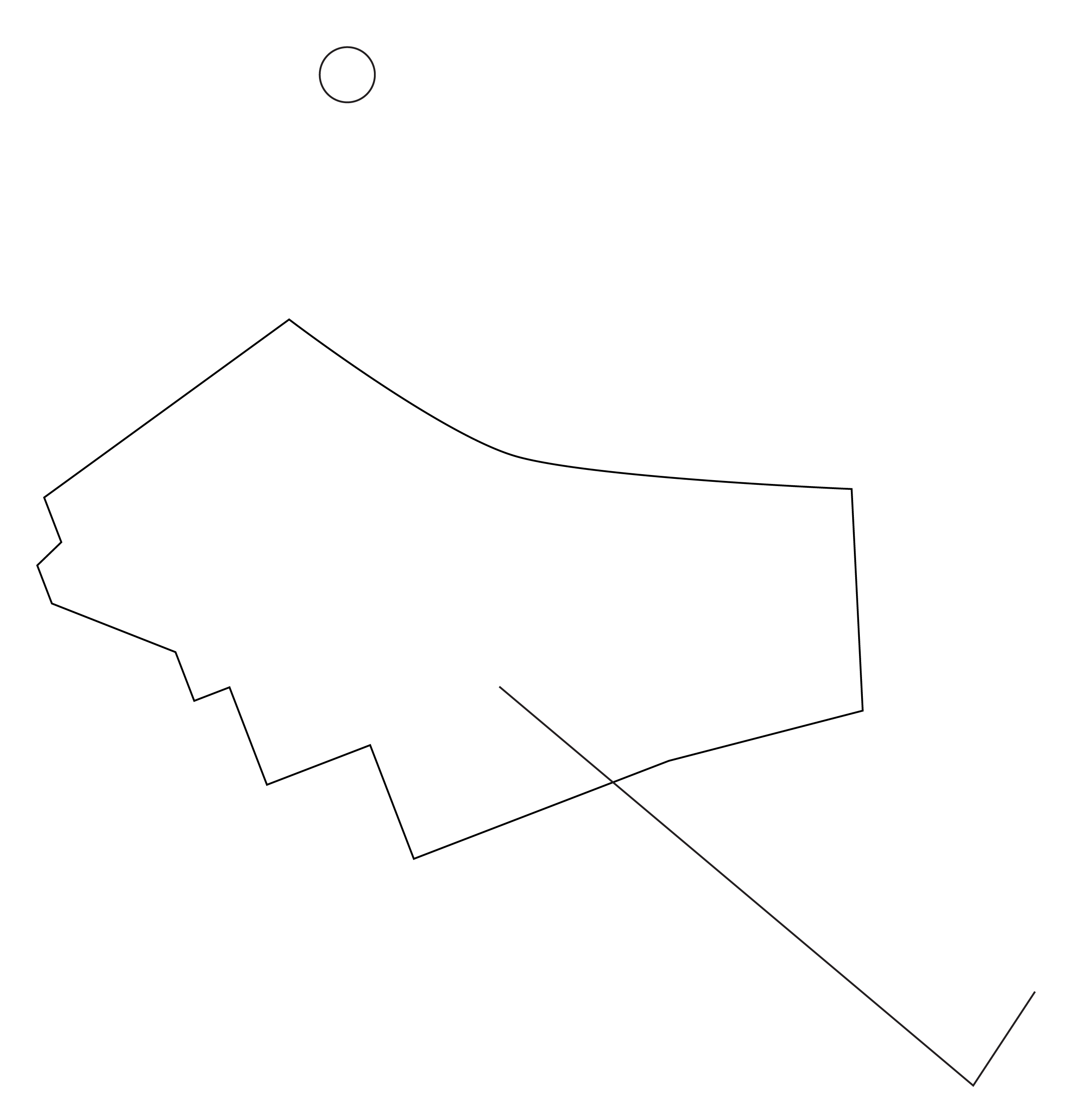 "When there is a need, participation happens in an autonomous way. I had never been to the São Paulo State Legislative Assembly. I knew that it existed and that was it."
Marcelo, São Paulo
"They wanted to take the students to an exposition and the coordinators of the school blocked the initiative by saying, 'Um, where is the project?' So there is this inequality, which is also violent, right? Inequality between whoever has the instruments those that don't and can't just go write a project. You know that language is one of the ways that exclusion perpetuates, right?"
Warley, Belo Horizonte
"Like it or not, communication from the peripheries is innovation, because there is no longer someone else speaking for me, no one saying what I have to do and how I have to do it. I am the one understanding my needs, the level of complexity, and then saying, maybe this path will work, maybe not, but maybe it will work out."
Jéssica, São Paulo
Nós, Mulheres da Periferia
The collective Nós, Mulheres da Periferia (We, Women from the Periphery) addresses questions of daily life of the women who live in the peripheries of São Paulo.
Participation is the response to regression
There is a generalized perception among those interviewed that in the political and social scenarios there has been significant regression on the issues and rights guaranteed in the Federal Constitution.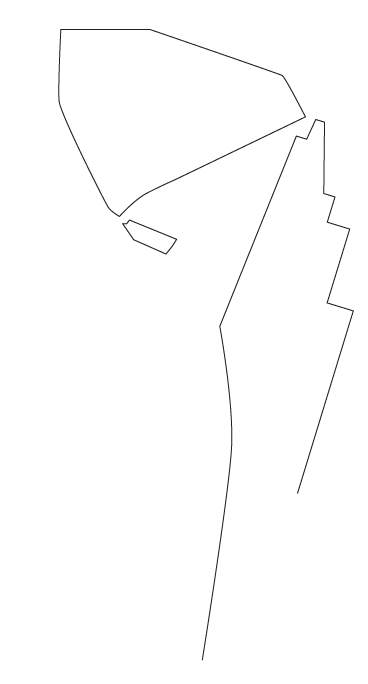 "We are risking entering a very difficult political period, of regression, of losing many rights that we thought were ours. We are from a generation that grew up wth rights, we did not have to fight for them. I had a Prouni scholarship, I went to two universities, my father got a house, a car, I don't know what else…because I was inserted in a political and social context that allowed it. I am sure that depending on this years elections we will see 90% of this thrown out and we will have to work for it again. And I wonder if we are prepared to fight for it again. Given that I spent my childhood, adolescence and the beginning of my adult life in a system that, despite all of its faults, was favorable, do you think I will be ready to fight?"
Jéssica, São Paulo
Thats it, we can't stop because they are taking our rights away, this illegitimate government that has been taking rights away from the working class, from the entire Brazilian population, from the people who most need public policies."
Luiza, Recife
"We are not in a democracy, because they took someone who was elected out of power. It was a coup, I think that it was a coup and it was twice over because she was a woman. She was the first woman president and she was taken out of power. It was horrible for me, because women already have few spaces and when she got one, she was taken out."
Rayane, Brasília
Recognition of public policies as democratic advance
The social and educational public policies that the Worker's Party government passed during its 13 years in power favored the new generations. They provided access to education and to financial resources, leaving a generation in the periphery much more prepared to research, prioritize and demand responses to the needs in their territories.

"I don't support the worker's party but I can see how throughout my life, all of these policies were important for me to get here and be able to speak about them."
Jéssica, São Paulo
"All of this repression and the efforts to keep people from the left out of power reflect a fear of the true revolution of the people occupying these spaces of power. So, I think that it has to happen from the outside in, I think that the main way of establishing a revolution in the state is through elections."
Tadeu, São Paulo
From the invisible to the visible, from outside to inside the government
"Up until recently, we domestic workers we were not considered a part of the working class, we were an invisible category. Our work is still undervalued, but we are no longer invisible, we were able to approve a Constitutional Amendment, and that is no small thing, right?"
Luiza, Recife
The issues of the peripheries gain little visibility due to the inequality of representation in the executive, legislative and judicial branches and in the press. The invisible becomes visible through the adoption of legislation and public policies that create participatory spaces, from outside to inside the government.

"Social transformation coming from within the government? Whenever I have the opportunity to speak in seminars and debates, I say that in 2014, when that Congress was elected, even I with little schooling and an immature political vision said that it was the worst of the last 25 years."
Luiza, Recife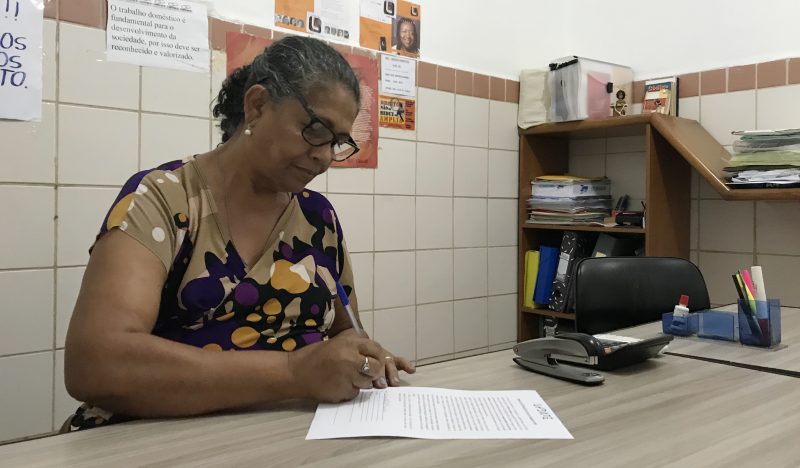 Sindicato das Domésticas
(Domestic Worker's Union)
"We have an opportunity for transformation if we pass the reform in Congress, too." – Luiza Batista Pereira, Domestic Worker's Union (Recife)
During a sleepless night, Luiza Batista Pereira woke up to politics. She stayed up unable to stop thinking about what she heard from the president of the Domestic Worker's Union in Recife. "So this means that my retirement, since I did not participate in the struggle, didn't come so easily?" she asked herself.
The daughter of poor farmers, Luiza started work as a domestic employee when she was 9. She did not live her childhood. When she was 36, she got breast cancer and had to spend some time away from her job. That was when she learned about the Union. After that, when she ended a relationship that had lasted 21 years and after almost entering into depression, she decided to go back to school, taking course through union. It was a watershed in my life, how wonderful!"
With her children out of the house and having retired at 43 due to disability, Luzia decided to join the Union. And she started to live. She continued her studies, participated in protests in Brasília and seminars and, in 2009, was invited to run for president of the organization. She won and is now serving in her third term. Under her leadership, the Union won many collective victories including protections pregnant domestic workers, 30 days vacation, the right to take holidays off and a constitutional amendment that recognizes her class.
Today, at age 62, Luzia knows that there is still much to be done given the regression around the guarantee of rights and the racism, chauvinism and LGBT-phobia that structure society. To her this means occupying spaces of power. "We don't only fight for us, we also fight beside the minority that is persecuted, the minority in rights."
According to the IBGE, women represent 52% of the Brazilian population. In 2018, women make up only 12% of Congress and Brazil has the fifth highest rate of femicide in the world. To combat such low representativity and violence, the doers work both to guarantee the existence of women as well as to amplify their participation in spaces of power. When a woman understands the importance of this movement, it creates an environment to awaken others.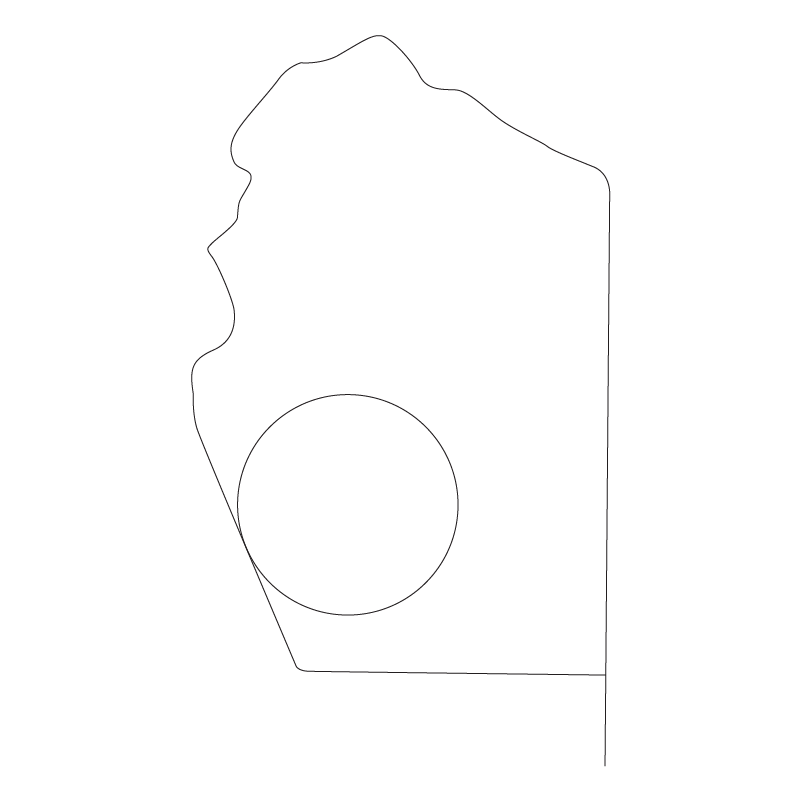 "I think that this is a challenge, too. Our ability to reconcile this, be able to, go beyond keeping the woman alive, maintaining her dignity and eventually extending this to all women. It is a lot of work, really…the challenge is to make this work extend out to everything."
Clarice, Belo Horizonte
"Marielle died last week, when it happened there was shock and surprise, like, shit what now, I have a small daughter, I can't die. But after it became: man, the fact that it happened the way it did is going to make so many women have so much more courage, you know?"
Hellen, Brasilia
"50% of the seats in Congress for politically conscious women…More black women, more women from the struggle, more women filling spaces throughout society. That is it, sometimes we say that and people think, "you just want women from the left." No, there are women on the right debating and defending what is important to them, you see? And they have training to be there. So that is it, I would make a big ask for a 50/50 and that our 50 are combative. Combative, representative, and that can actually propose changes all women. For white women, black women, women from the periphery, middle class women, indigenous, disabled women, that is what we need."
Thayene, Brasilia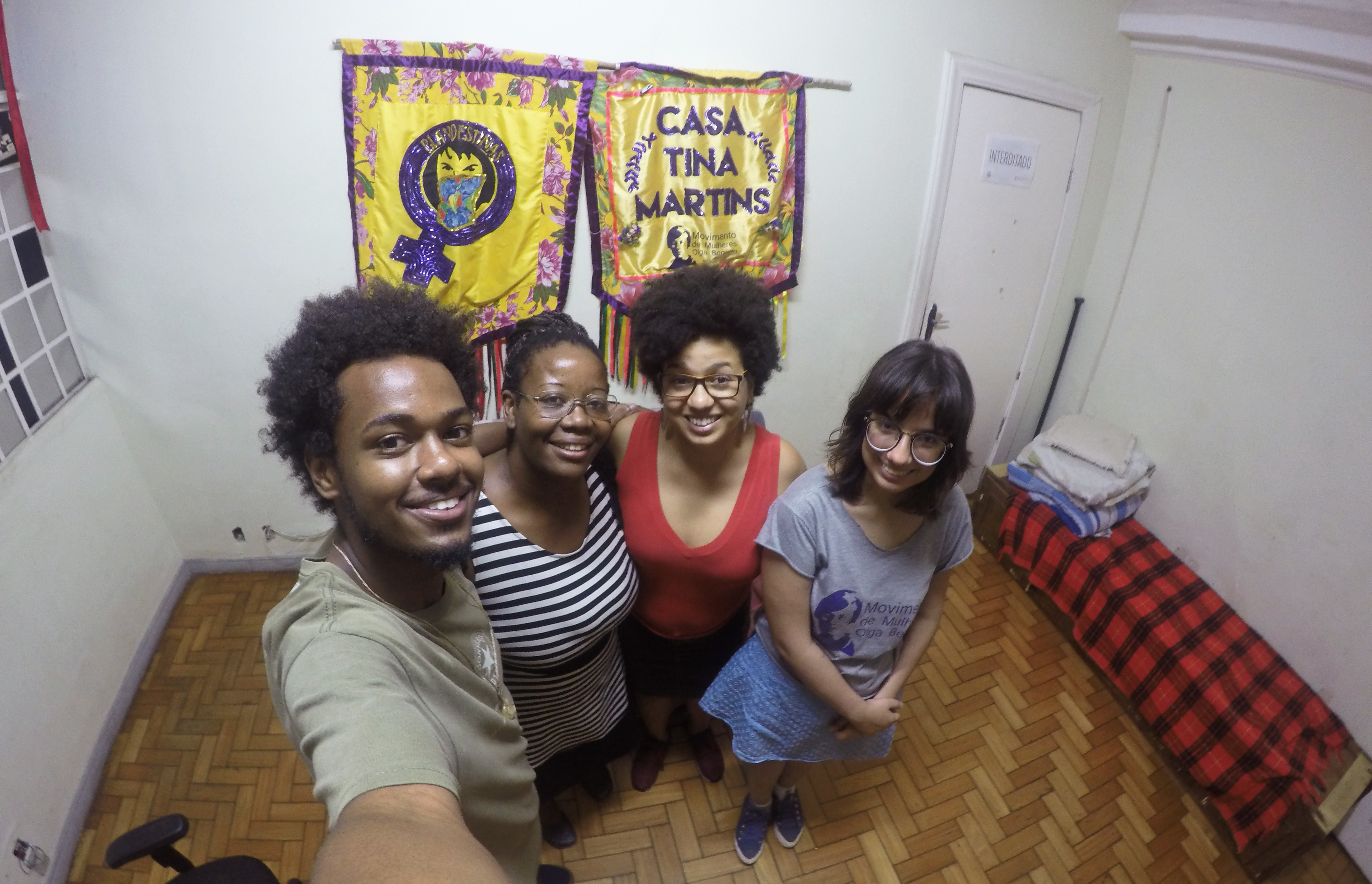 Wellington Amorim, Vanessa Beco, Jéssica Cerqueira and Clarice Filgueiras
"We put someone in government, but we also put on external pressure." – Clarice Filgueiras

Keep women alive. This is the challenge of those responsible for the Tina Martins House, an independent reference center that gives legal and psychological support and houses women who are in vulnerable situation or were victims of domestic violence.

The House was founded in 2016, when women occupied an abandoned public building in Belo Horizonte with the aim of raising awareness about the cases of femicide in Brazil. The occupation, which was supposed to be symbolic, lasted 87 days. "When the federal government asked for the house back, we said, well, you are going to give us something else," Clarice Filgueiras, one of the people responsible for the project, said. According to her, there was no way that the public authorities could go regress after they had built relationships with other women.

Today, the Tina Martins House is a reference for governmental organs, even though it currently has little support from the state. The proposal is to keep pressuring and revealing the possibilites that spring from the real demands of the population.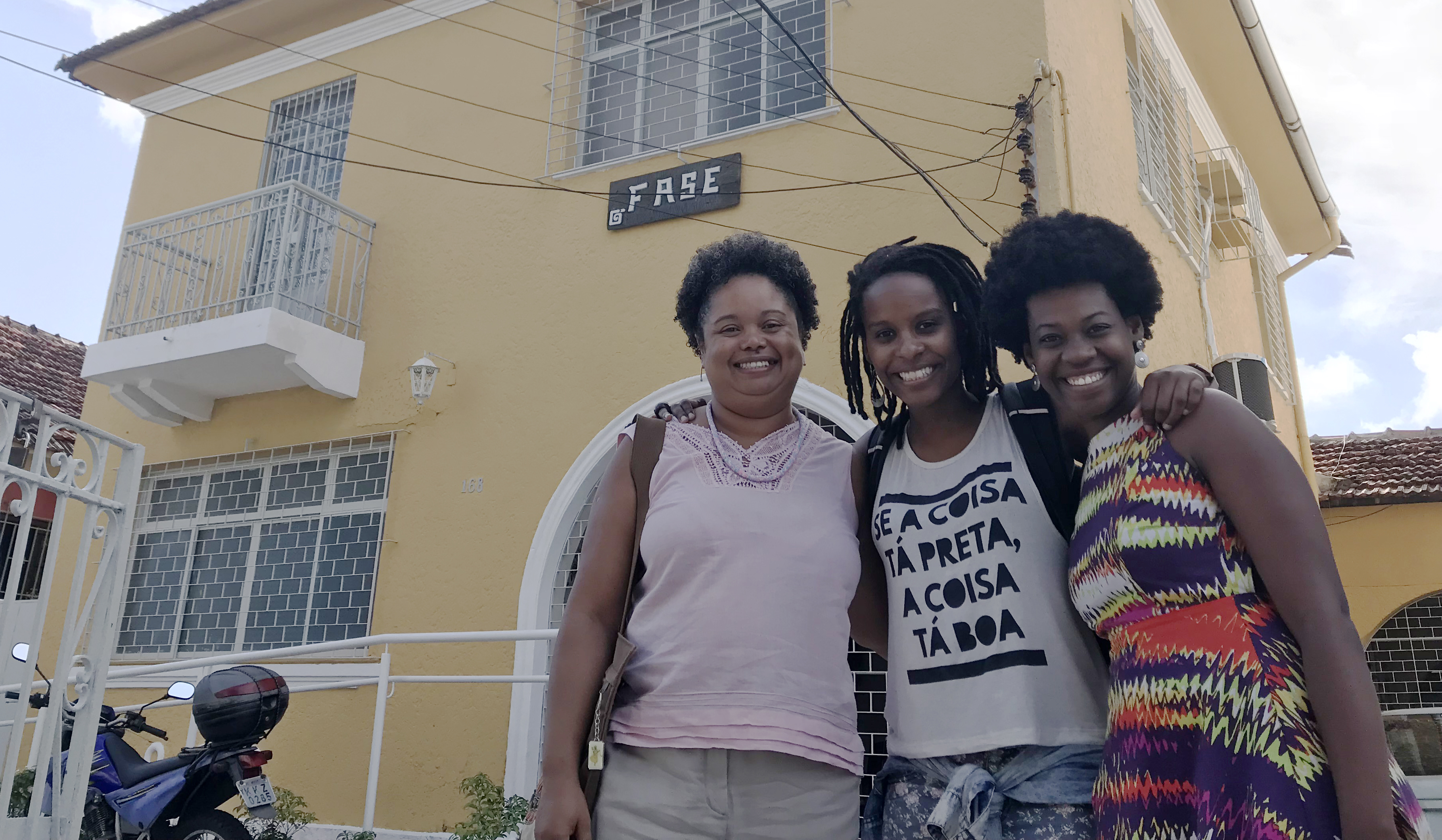 Mônica Oliveira, Monique Evelle and Thaísa Agatha
Rede de Mulheres Negras de Pernambuco
"The big challenge is convincing people that, without them, there is no solution."
2015. Thousands of black women marched in Brasilia on the 20th of November. And some of the marches out of Recife came back and discussed the importance of keeping the movement strong. And that is how the Pernambuco Black Women's Network (RMNPE), a non-profit group that fights against racism, chauvinism and for living well without violence.
The challenge is not small. Black women are the base of the Brazilian social pyramid, they suffer femicide and from the homicides of black youth, from mass incarceration, from the low alphabetization rates and without formal employment and income. Because of this, the MNNPE didn't start from scratch, but rather started by recognizing the victories of those that came before, from the Unified Black Movement (MNU), and by bringing together university students and the workers and entrepreneurs from the peripheries who are often underestimated by the white left.
"We are a victorious population because we survived and were not eliminated when the state planned and executed its strategies. We value the way that people resist and survive day to day," they say.
Coletivo Nós por Nós
(For Us By Us Collective)
2016. Reports of a group rape of a young woman by more than 30 men shock Brazil. In Cidade Ocidental, a municipality of the state of Goiás that surrounds the Federal District, women met to do something beyond their revulsion.

That is how the For Us By Us Collective was born. Organized around the idea that women can help other women through emotional support and around the objective of contributing in a positive way to bring about changes in the lives of all. Beyond mutual support, they mobilize effective actions in Cidade Ocidental related to work, services and participation in public hearings and councils.
"I am a legislative aide, which is another very inhospitable place for us. We see horrendous scenes of chauvinism and racism in the legislative assembly, so bad that you stop and say: this isn't possible."
Fernanda, Belo Horizonte
The government is present, even when it isn't. Its absence in the peripheries is visible and planned, just as is the absence of the periphery in the halls of power. It is at this limit, between outside and inside, that the need for representation of the doers in the spaces of decision making comes is revealed.

"My experience in the national campaign for the right to education was very rich, because I saw advocacy up close. My advocacy was so close to Congress and Senate and I thought about how important it is for us to have people in there that have a firm hand to decide things, and that these people, if they are from my field, if they are on my side, maybe they will know what is important to defend."
Jéssica, São Paulo
GET TO KNOW
THE INITIATIVES
The peripheries are spaces where doers create, experiment and test actions to reduce the inequalities that they experience daily.
Given the proximity of spaces of elaboration and practice,solutions emerge that embody the dynamism of the peripheral reality rather than a distanced, stereotyped interpretation.
If political innovation involves the reduction of inequalities to deepen democracy, the future is being revealed in the peripheries.