Right to economy and living well
The right to economy and living well labs prioritise people and community development for the management of public and private resources.  They work as practical alternatives to reduce inequalities.

Entrepreneurship
as a political act
as a guerrilla tactic
as survival
Self-employment is a survival and resistance tactic. It catalyzes the economy in the peripheries. This "survival entrepreneurship" is an economic alternative to formal employment, which is not often available either due to a lack of formal education, rejection from the market or economic crises that hit the basic wage earners first.  It is not "formal entrepreneurship" with opportunities in the market that present opportunities for action but rather it responds to the urgent need for work and income. Residents of the peripheries, mainly residents of occupied peripheral areas, often do not have residence documentation and because of this are not recognized by the system. This impedes the formalization process and makes residents of peripheries yet again illegal and invisible to the labor market. Entrepreneurship in the peripheries is a political act.

"My mom was always running around in order to be able to sustain me and do what she needed to do, too. She always worked to support the family, she was the oldest daughter. And she always this attitude, I didn't know that the name of it was entrepreneurship and I didn't know that, for example, it was political, because being an entrepreneur in the favela and the periphery is a resistance act.  Because people can't even have legal businesses within the favela and periphery."
João, Belo Horizonte
Translation and shared development
The language and codes produced and utilized by groups that hold and access resources are factors for economic exclusion. There is a difference between the language used in public announcements, the labor market and the judiciary and the less bureaucratic and more common language used by peripheral groups.  Decoding language and translating processes is one of the challenges in seeking access to resources.
"I am not going to show up in buraco quente, in Ricardo's terreiro, and give the old ladies there an analysis of the political conjuncture, no way! I have to show up and say "This is what is happening, they are going to take away your pension, if your husband dies, you will have to survive with just one income, because the government is going to take the other one away." And then she will be able to understand what the government is doing with her…you have to facilitate."
Celinha, Belo Horizonte
The importance of working collectively comes from the lived experience of the doers and of the organized bases in these territories, where residents get together on the weekends to help build rooftop patios on the homes of their neighbors, where the children grow up together in the streets. This collaboration for common outcomes and shared growth is at the heart of those who propose to create public policies.


"We were playing around, comparing co-working spaces, and we said: ah, favela co-workings are actually our informal constructions. You have a church with a bar above it, or the bar is down below and beside it someone is selling açaí, and then people go to the bar, go to get açaí, go to church, everything is there being shared, we are playing around with this idea.  And also because we needed a space that could be used by people who are already doing things in the territory. There were people from different collectives or projects doing work on communication, media, technology, entertainment, culture, that needed a space. We thought that the space should be the favela. There are lots of NGO spaces and everything, but we also needed to have an autonomous space, and one that generated income, finally saying something about money."."
Thamyra, Rio de Janeiro
Broaden the dialogue of the doers in the territories and, through exchanges, potentialize transformation and accelerate the reduction of inequalities.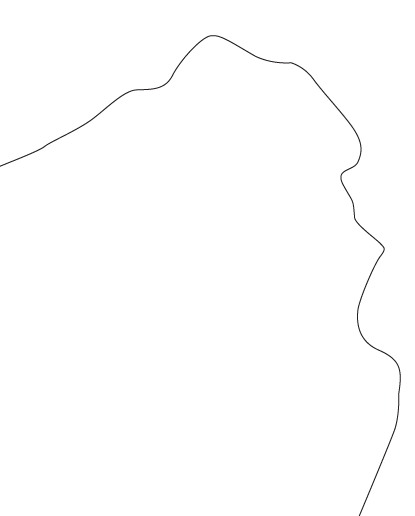 "The most effective thing to do would be to build a media center in each territory, in each district of São Paulo.  A space dedicated specifically to information. I think in that way we would go straight to the Achilles heel of the people who have private power, public power, because the information is out there. Look at my story for example, I did not know what Prouni was when I left public school. I only discovered that policy five years later. This access to information is what is going to define what you will be in the future, it is what makes us get to that social inequality in the most brutal way, so that we can break with the structure."
Ronaldo, São Paulo
"We are opening the code within the favela for people in the favela, making the periphery into the center, putting youth from favelas that already know something about it, that already do something in the area or have some learning experience to share with others. Because I think the mirror is the best teacher."
Thamyra, Rio de Janeiro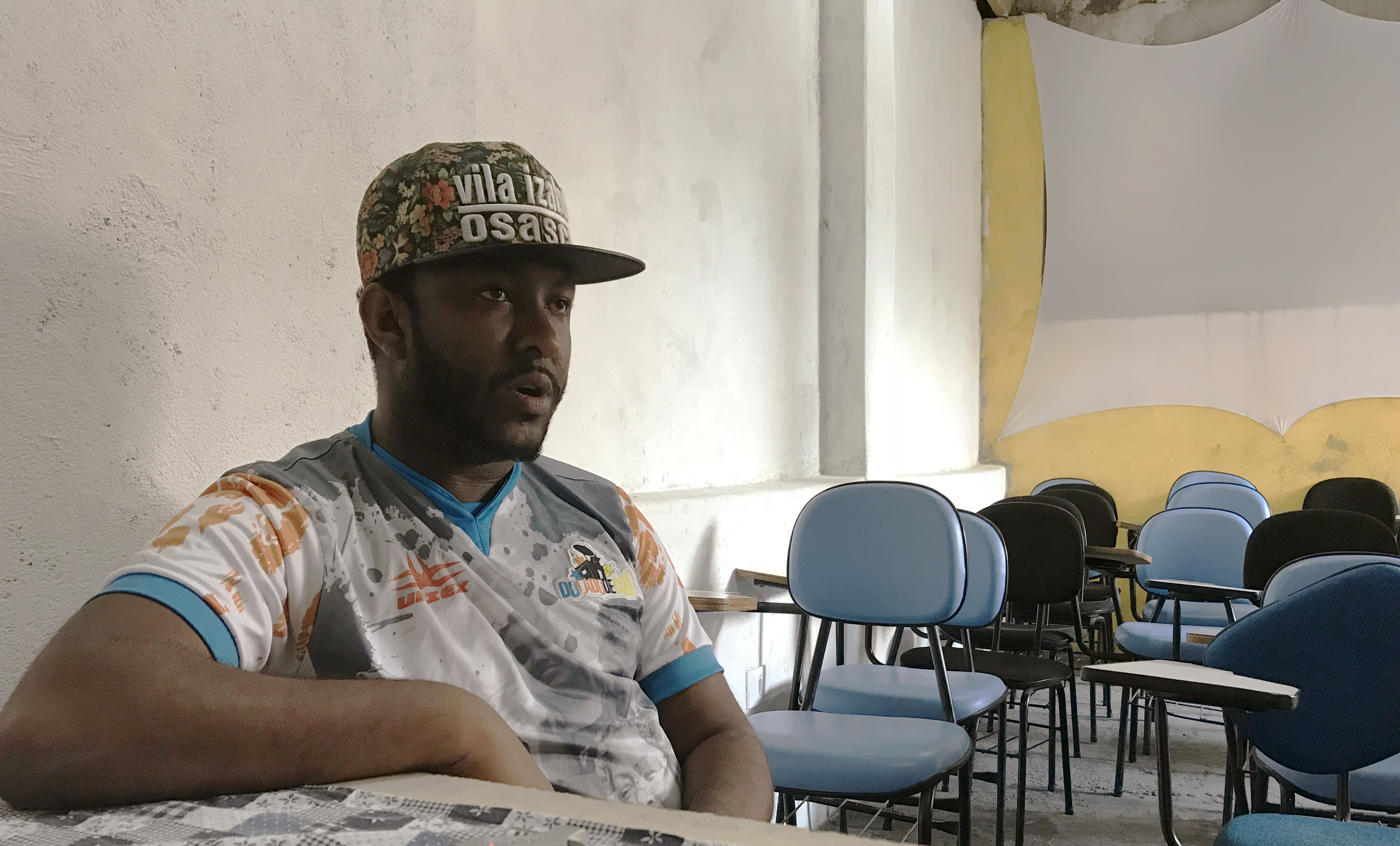 Desenrola e Não Me Enrola
The first time that Ronaldo Matos took action to transform his reality was when he understood that information has the power to help people change their lives.  This happened first when he was a child, but hit home when Ronaldo was an adult and worked in the corporate sector.
Concern pushed him to create Desenrola e Não Me Enrola, a communication collective in Jardim Ângela (SP) that portrays what is happening socially and culturally in peripheries of São Paulo.  Beyond content production, the collective also organizes "You, Reporter from the Periphery" an education and communication project for youth and the "São Paulo Periphery Writers Congress" which highlights literature and authors from the periphery. Since 2017, it has managed the "M'Boi Mirim Center for Media and Popular Communication," which is a community space that has a collaborative office, a multimedia photography and video studio, an auditorium for speeches and workshops and a newsroom for the portal.
The collective does politics, specifically supporting people who are seeking information to act politically. "For me, the main characteristics of people who do politics today are openness to encounters, to understanding other narratives, other contexts, acquiring new knowledges," Ronaldo says.
Exchanges between peripheral territories and non-peripheral territories are key for the creation of new repertories and strategies for accessing rights.  Exchange makes it possible to experience something that is not "natural" or "common" in the daily life of some and that is restricted to smaller groups and earns the status of a privilege, even though it may be guaranteed as a right by the constitution.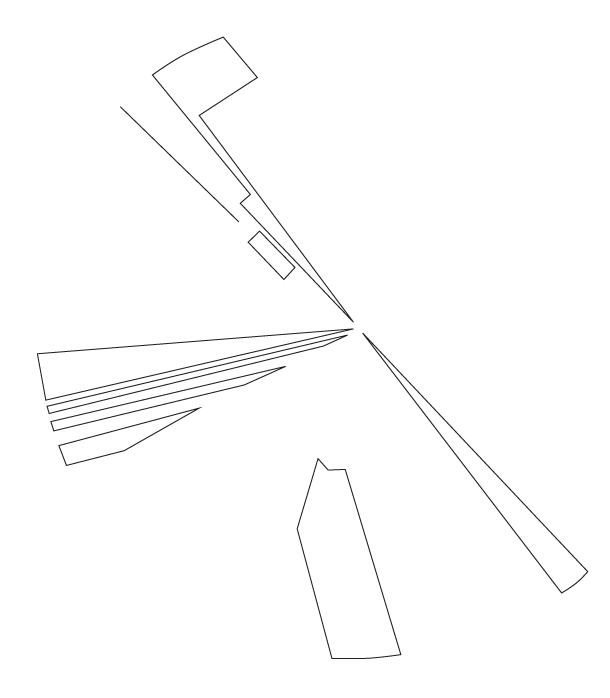 I discovered that my grandmother had diabetes, that a large number of my friends also had diabetes and that nutrition was key for resolving these problems. People who have more money have the option of choosing better food and my community doesn't even know that, when I bring this to discussions they say that it is cultural, that poor people eat beans and flour, and then I say, man, there is something really wrong there.  I worked in this place for a year, I quit and all of the stuff I saw there I wanted to bring back to my community. That is how Saladorama was born, it is an idea of showing that nutrition is a right and not a privilege."
Hamilton, Recife
Living Well as the construction of alternatives
Remixing ideas registered in the book "Buen Vivir" by Alberto Acosta, we understand living well as the process of constructing alternatives for the economy and human subsistence that are connected with democratic principles and with the Rights of Nature found in the Andean and indigenous civilizations of the Americas.  To speak about economics in the periphery is to speak about about changes in the capitalist logic, which dries up the work force and does not share projected benefits.
Labs for the right to economy and living well are initiatives that address healthful eating, gardens, urban water management, mobility. They are alternatives that seek to reduce inequalities


"I think that the logic of capitalism is at work here, what is missing for those of us who live in the periphery, who are in the favelas and everything, are consumption indicators. We do not understand that when we consume we make a political choice. Man, it is the guy that lives in Alphaville in São Paulo, or in Sion or Belvedere here that maintains the Unilever corporation, you know? The people who keep Unilever running are us man, the masses that buy the products. A business is a political act."
João, Belo Horizonte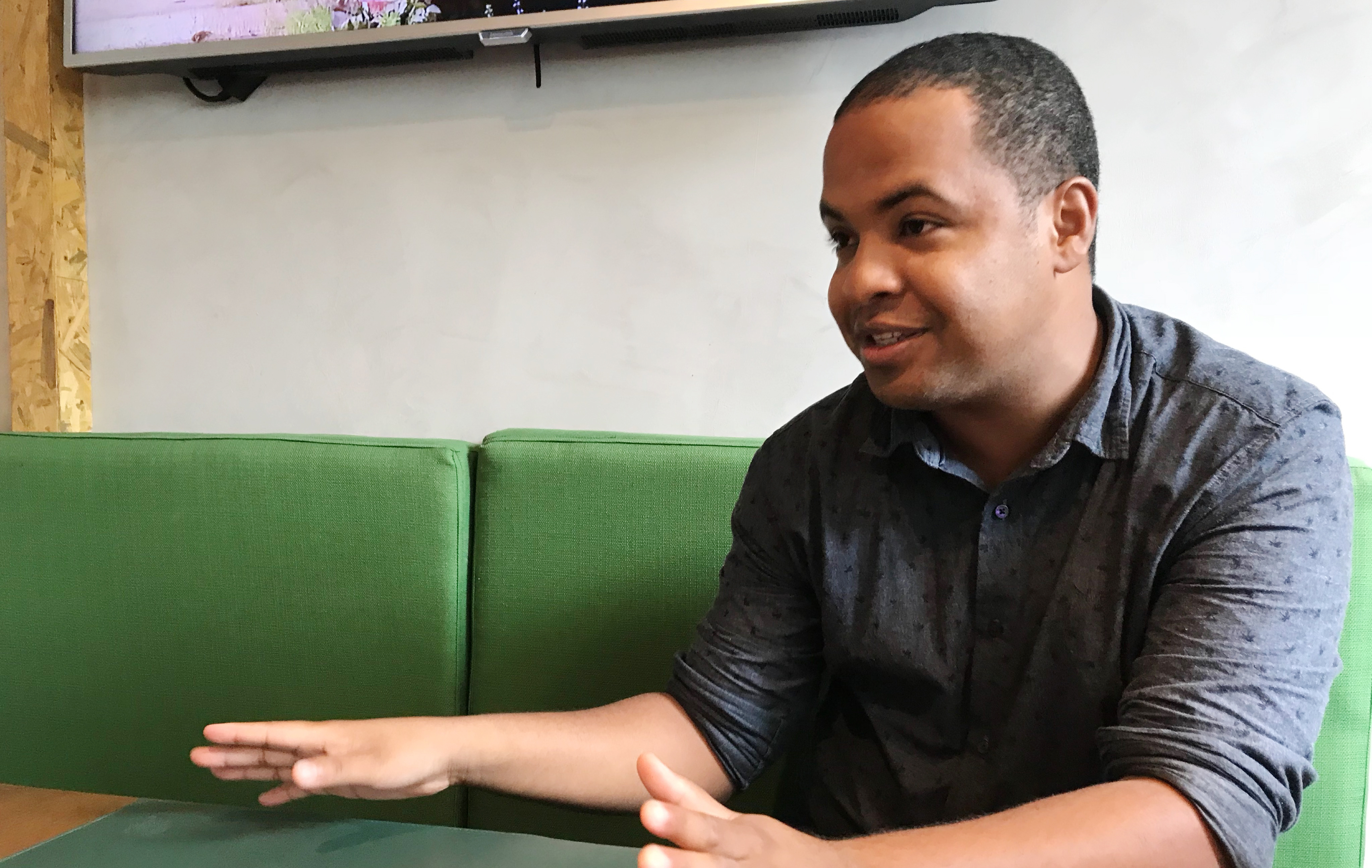 Food for the rich vs. food for the poor. Does this dichotomy exist?
It was at that moment that he understood that it didn't make sense for his family not to have access to this type of food and to have to deal with health problems like diabetes or hypertension, for example.
Saladorama emerged out of this reflection. It is a social business that seeks to democratize healthful eating in Brazil as a right and not a privilege. Today, the company discusses solutions for this in many cities around the country, such as Florianopolis, São Luís and Recife.
Deixem o Onça Beber Água Limpa
(Let Onça Drink Clean Water)
A movement to protect the Riberão do Onça spring and mobilization to create a park protecting it.
Micro-revolutions and behavior
Working in their territories, the doers alter the cultural habits of those closest to them through micro-revolutions – small changes in the daily lives of people impact others around them, creating new references and possibilities.  The initiatives integrate basic necessities and the strengthening of individual identity and culture. Riding a bicycle, planting a garden, each movement can become a micro-revolution.

"People's freedom to come and go amplifies their belonging to the city, the way they occupy space and territory, their leisure and quality of life.  The bicycle also increases business possibilities, chiefly for black women from the periphery. They can increase work opportunities, which are currently so scarce."
Jô, São Paulo
One of the repercussions of these changes in way of life and the creation of new repertories as political acts involves esthetics, the recognition of power and beauty as factors that potentialize self-esteem and the valorization of socially marginalized bodies.
"Esthetics were really important. Now she cut her hair really short.  Before she died, Mrs. Isable participated the whole process of understanding and accepting natural hair, it was really beautiful.  I see the impact when the people, when neighbors start planting also. This happens a lot, people adopt this culture. And we see that little gardens spread around…People trade seeds, trade seedlings."
Aline, Belo Horizonte
Roots Ativa (Active Roots) started as a meeting of friends to promote environmental consciousness and generate income among youth from the peripheries of Belo Horizonte, prioritising elements of Rastafari culture.
Made up of mainly black, lesbian women, Coletivo Habitantes (Inhabitants Collective) promotes alternative markets and cultural interventions in Belo Horizonte, generating income for local youth artists.
The lack of financial resources is inherently connected to the social inequalities that the peripheral territories face.  But collaboration is a valuable resource for developing products and solutions to problems. The sharing of equipment, technologies and services as well as the power of a network of contacts creates new possibilities for autonomy and also distributes income within the territory.

"At Casa Brota I see two things happening: the first is that we are generating income for everyone who is there thinking about the projects and the second is the social impact of this financial autonomy for us since we are both poor and black."
Thamyra, Rio de Janeiro
"Sadly, we can't. If we operated with a full structure, paying everyone and for everything, it would be very expensive. The network is key for us to reach our objectives. Working together we make it happen. Over 50 people from different companies and places make themselves available."
João, Belo Horizonte
The house is in the Alemão Complex, in Rio's north zone. It is a 'favela coworking' – a space of work for artists, journalists, designers, photographers and other doers from the favela, generating both income and meaning.
Where the aims of the struggle and basic survival meet is a place of constant negotiation of individual and collective priorities. When the doers access rights, they become multipliers of information and activists for their causes, setting priorities and opening pathways to increase collective access.  Nevertheless, the impulse to work on these causes comes into conflict with the individual and family needs of each person, of daily life and the bills waiting to be paid.

"Working in journalism, making media is something that I think is both a desire and my obligation, because I had the privilege of studying, of graduating with a degree in cinema. I have to work so that the media that I produce reaches the audiences that didn't have the same privileges as I did, that couldn't go to university.  I have to get my camera and go up Papagaio hill and say: 'Look here, these people are being removed from their homes!' And what did the mayor's office say? 'Look, here are R$500 for you to pay rent somewhere.' Who can pay rent with R$500 if they have three children? 'Ok, so if you can't pay rent, there is a shelter for you through the municipal government.' Who wants to leave their home to live in a shelter? Someone who built their home brick by brick? This is the purpose of my journalism, this is why I need journalism. But it doesn't pay my bills, so what can I do? That is what I question."
Natalie, Belo Horizonte
"We need to grow, but without burning out. Today I evaluate that we need to increase our project funding because there are questions that we are not going to be able to address without it. Police violence and state-inflicted homicide is a central issue that we have not been able to work yet, in a significant way, because we don't have resources to pay ourselves."
Fernanda, Belo Horizonte
The formalization of organizations so they can access financial resources as well as have their existence recognized is an often-raised question.  What is the real need for the CNPJ, or legal status, of an organization? And how are relationships of shared management between governmental and private organizations carried out in terms of the actions developed?

"We are formalizing, we are writing a statute, we are getting a CNPJ and everything else because it is easier for fundraising.  But doing it all on our own, taking it out of our own pocket is hard, it is a lot for us, it demands a lot of work for not very much return.  After some time working in this area, some organizations sought us out. We didn't contact them, it was the other way around, these organizations sought us out.  So the international funder makes contact, provides a ton of equipment, a lot of stuff, but it is an institution, you know? There are expectations around accountability, documents to sign, papers to deal with, and what do we do if we don't have a CNPJ, if we aren't a registered organization? We don't have access."
Thainã, Rio de Janeiro
The creation of a MEI (Individual Micro Entrepreneur) status is a way to access temporary jobs and to produce within the territory. At the same time, it is one of the mechanisms responsible for eroding workers' rights. According to research carried out by SEBRAE in 2013, using data from the IBGE/PNAD, 50% of the entrepreneurs with a MEI are black or mixed race, 49% are white and 1% have other racial identifications. These data reveal that services provided by black people are mainly domestic services, cosmetic services (hairstyling, manicure) and clothing, cosmetics and food sales. They produce 50% of the income of that produced by white entrepreneurs, who have more education and access to information and technologies.
"We don't really need it, because I have a MEI, everyone who has a collective has a MEI. So when an institution from outside the favela wants to rent the house, we can use someone's MEI to account for the payment."
Thamyra, Rio de Janeiro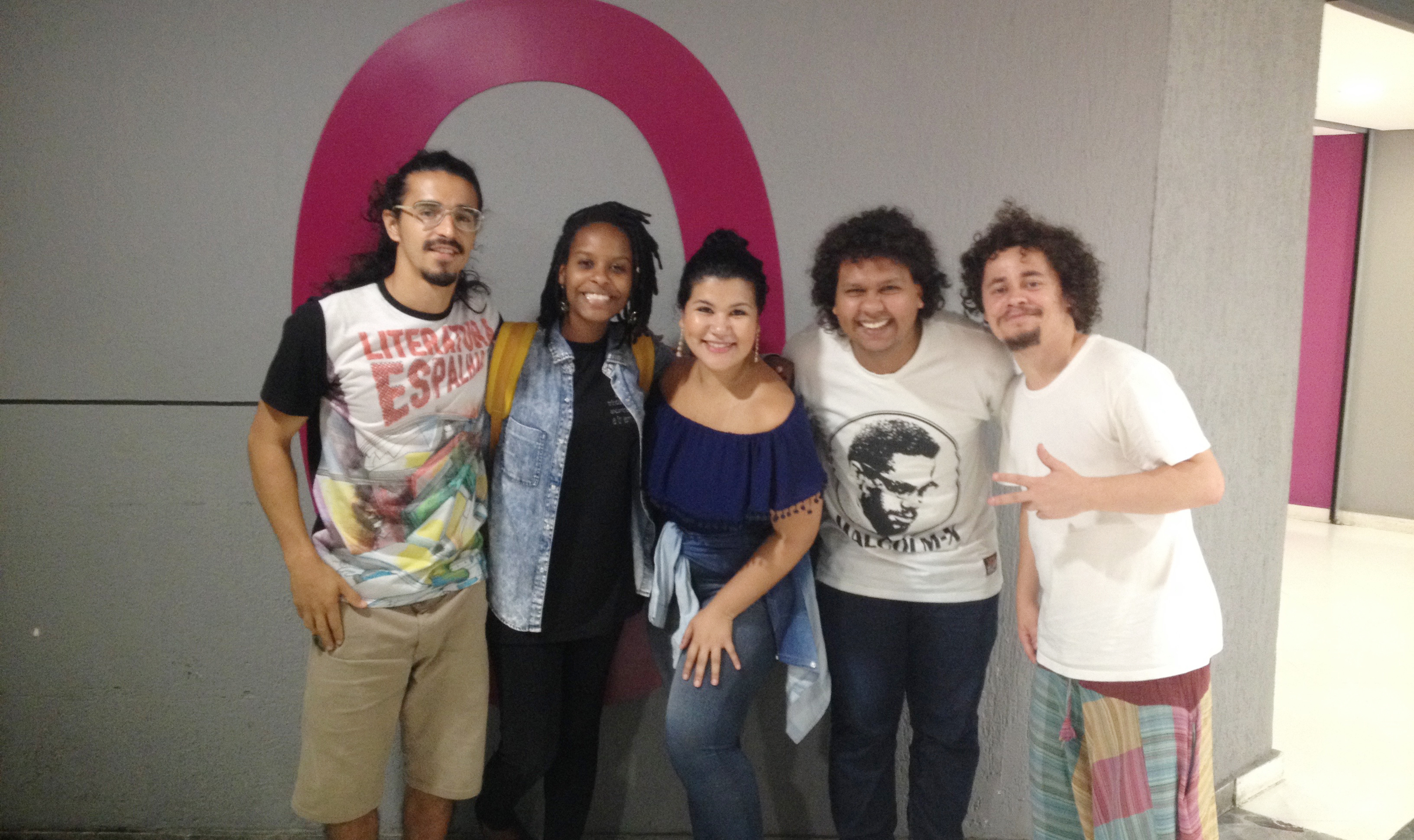 Hércules Laino, Monique Evelle, Jennifer Rodrigues, Luis Henrique and Tony Marlon
Is being an entrepreneur a political act?
Straight out of Jardim São Luís, in the extreme south of São Paulo, Luís Henrique Coelho and Jennifer Rodrigues tell it like it is: disputing and occupying space is the way to prioritize what populations from the periphery demand and to provoke necessary changes.  That is why they created Empreende Aí, which capacitates, accompanies and seeks financial support for youth to create their own businesses and generate income.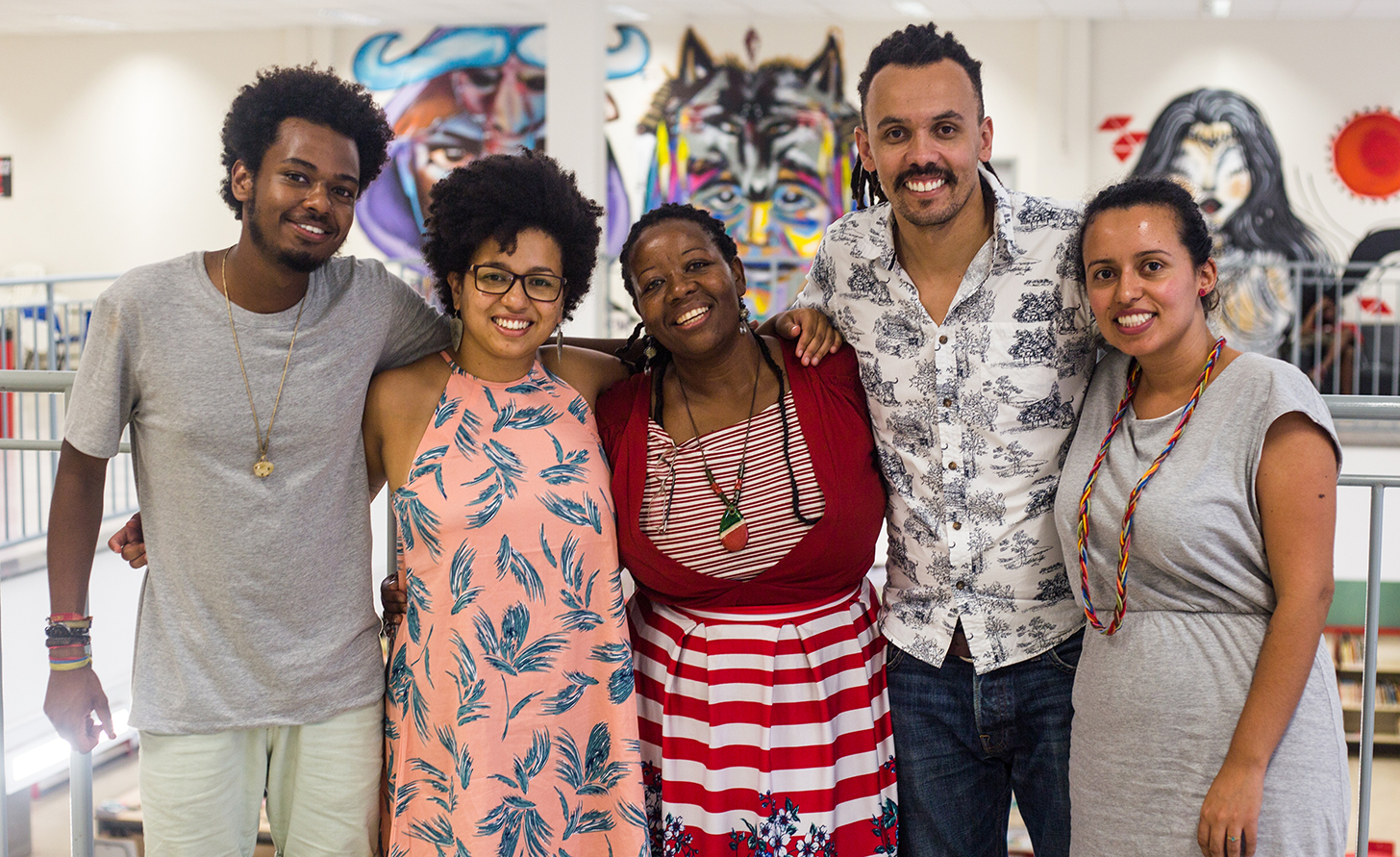 Wellington Amorim, Jéssica Cerqueira, Vanessa Beco, João and Tati
Innovating doesn't necessarily mean reinventing the wheel, but rather doing what needs to be done with what you have.  And this is at the root of Fa.Vela, an accelerator from Minas Gerais. Started in Papagaio hill (center-south of Belo Horizonte), today it stimulates and trains entrepreneurs from other favelas in Belo Horizonte based on the demands and potentialities of each territory.
However, even if the population knows that guaranteeing the basics is a big advance, this is not always the case in institutional politics. "The system is not based on pro-activity and the smooth resolution of problems. If a councilperson brings up a demand today, it will have to pass through so much to become a solution. I am afraid the system would swallow me and harden me," noted João Souza, who founded Fa.Vela alongside Tatiana Silva.
On the other hand, movements like the Muitxs, who in 2016 were able to elect two new council women in the capital of Minas Gerais without funding and with a lot of mobilization, help organize these spaces and show that once again the daily challenges indicate the paths to be followed.  "Political innovation is autonomous candidacies from and for the favelas and peripheries," João notes.
Territory as creative potential
By understanding the territory as inventive and creative potential, the doers seek to transform the stigmas that they carry and promote keeping residence in their original territories.  A large pressure to leave exists, attributed to the possibility of improved living conditions, mobility or a change in purchasing power.
"Mothers from the favelas, they followed the logic of 'you are going to work, go get a job' which we understood as 'get out of here.' Do you understand? The mothers wanted their children to leave the favela. Because it doesn't make sense to them. They understand it as a bad place. Today, like it or not, from my generation forward, and other generations and everything, we are able to recognize it as a rich territory, to see that you can produce a lot within the favela. But at that time they didn't see this."
João, Belo Horizonte
Reciclação (Reciclaction) has existed since 2013 and works to construct a sustainable cycle in the Morro dos Prazeres, in Santa Tereza. The project collects recyclable materials from residents, sells them and reinvests the money in environmental education.
Based on this recognition of the territory as creative potential, new possibilities for the economy and quality of life are imagined and generated. This diminishes the movements around the city and increases the importance of the territory.

"In the same month, I think it was June, we had a ton of shootouts, you know, like 60% of the days had shootouts, and we also won 26 athletic medals: judo, tae-kwon-do. A girl won a world championship in weight lifting and a guy, this isn't connected to sports, but the guy was named the second best hairstylist in Rio de Janeiro, and he lives here in the Alemão Complex. We say this all the time: look here, even with all the shootouts, we are able to win medals. Why don't you invest in a sports center focused on martial arts here, for example, rather than paying to send tanks in?  It would be incredible, the first martial arts center created within a favela, completely free, with many different modalities. I mean, with the shootouts and without infrastructure they do what they do, look at the potential there."
Thainã, Rio de Janeiro
"The residents are our market. Because a lot money circulates here in the favela and in other favelas, too. The C and D economic classes consume a lot.  So our question is how can we become desirable to the people who spend a lot of money at the funk events, 100, 200 reais, and could be spending that at our Slam event?  Someday I am going to take my family out to eat over there, and there will be a film screening along with dinner, or there will be an up-cycled clothing event, and I will speak about sustainable clothing, but in a way that attracts people.  I think this is our focus and our challenge in the house. "
Thamyra, Rio de Janeiro
GET TO KNOW
THE INITIATIVES
The peripheries are spaces where doers create, experiment and test actions to reduce the inequalities that they experience daily.
Given the proximity of spaces of elaboration and practice,solutions emerge that embody the dynamism of the peripheral reality rather than a distanced, stereotyped interpretation.
If political innovation involves the reduction of inequalities to deepen democracy, the future is being revealed in the peripheries.