EMERGING POLITICS IN THE PERIPHERIES is a portrait of a series of meetings and interviews in the peripheries of five Brazilian cities. It is a photograph that creates a mark in time in 2018.
The objective of the research is to give visibility to political innovation practices coming out of the Brazilian peripheries, with the aim of bringing different perspectives to light. The leaders of this innovation are Brazilian citizens who are deepening democracy from within their territories and based on specific needs and contexts.
The project was carried out from February to August 2018. We mapped more than 400 initiatives connected to political institutions, NGOs, informal collectives or individuals. We selected 100 of those for in-depth interviews.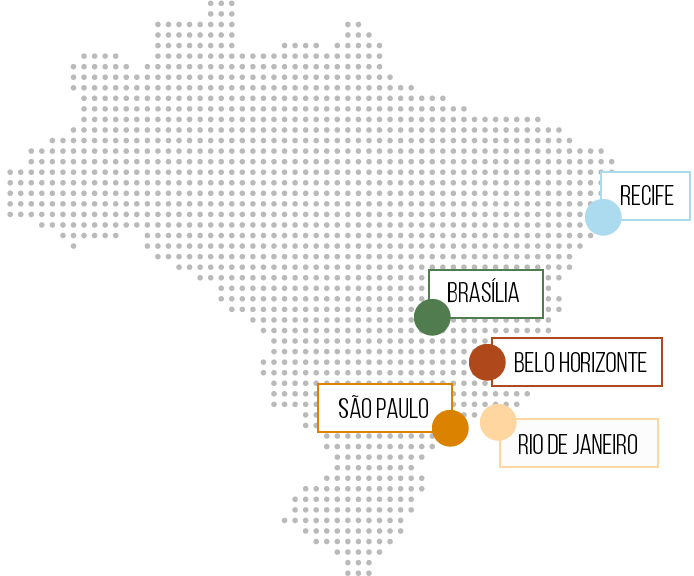 5 Cities
+100 Iniciatives
Constitutional
Rights Lab
These practices come out of the territories and their knowledges and subjects. The process involves a constant cycle of creation, testing, and validation of solutions that can be reproduced throughout the city.
It is in this context that the doers transform their territories into what we call Rights Laboratories. We chose this name because the solutions found are not frozen in time and space.
Given the proximity of spaces of elaboration and practice,solutions emerge that embody the dynamism of the peripheral reality rather than a distanced, stereotyped interpretation.
GET TO KNOW
THE INITIATIVES
The peripheries are spaces where doers create, experiment and test actions to reduce the inequalities that they experience daily.
If political innovation involves the reduction of inequalities to deepen democracy, the future is being revealed in the peripheries.